The resources I offer teach good sewing construction techniques through sewing projects that commence with the very basics, and advance gradually to increasing complexity and skill. You will find a sewing book on sewing with children, learning to sew for beginners, plus others for all ages and skill levels, students, teachers, and all patterns are included in each sewing book. We beleive these are the best how to sew books out there, and they have been designed to be the catalyst to a lifelong interest and love of sewing.
Catch the Sewing Bug
A Learn to Sew Book with 25 Fun and Simple Sewing Projects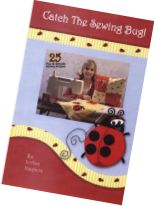 Especially designed for younger hands working with adult ones, Catch the Sewing Bug is written in such a way that adults with no sewing skills can easily work their way through it. This learning to sew book for children provides sewing projects for beginners and directions for 25 simple,
Click here for more information on How to Learn to Sew with
---
S

titches and Pins
A Beginning Sewing Book for Girls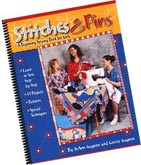 One of the best books on sewing for beginners. Stitches and Pins walks you through learning to sew through good construction skills and a variety of how to sew projects for beginners. From pillowcases to purses to pajamas to quilting. All sewing patterns are included in Girls and Misses sizes 8 - 16, in this sewing book. Sewing made easy and fun!

Click here for more information on our Girls Beginning Sewing Book,
Stitches & Pins
---
Buckles and Bobbins
A Beginning Sewing Book for Boys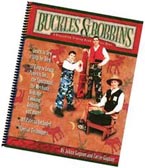 Boys enjoy learning to sew, too! This boys sewing book teaches sewing techniques in a step-by-step format, from pillowcases to backpacks and fishing and hunting vests. Boys and young men love the projects! All patterns for the learn to sew projects are included,
Boys sizes 8 - 16.




Click here for more information on our Boys Beginning Sewing Book,
Buckles & Bobbins
---
Pins and Needles
An Intermediate Sewing Book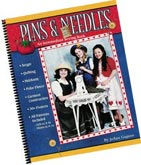 Have fun sewing clothes! In this sewing book you will learn more difficult sewing techniques. This learning to sew clothing book includes over 30 garment construction, quilting, and sewing projects. All patterns for Girls sizes 8 - 16 and Misses sizes 8 - 16 are included. Makes learning to sew fun!

Click here for more information on our intermediate sewing book,
Pins & Needles
---
Pintucks and Lace
Using Heirloom Sewing Techniques on Today's Styles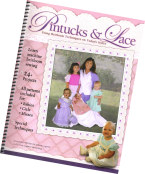 Discover how to sew heirloom stitches by machine in this sewing book. You will delight in the ease with which you are able to recreate the fine skill of heirloom sewing with your machine and incorporate it effectively into today's styles. Twenty-four projects, complete with sewing patterns, include items you will be proud to wear and use yourself, give as gifts, or display in your home. You will create everything from an heirloom gift bag to a tiered skirt to a tea cozy and an entire baby ensemble. Showcase your new found skills with showy blocks on an heirloom quilt - sure to be a treasure for generations. Learning to sew in new ways and expanding your techniques on the sewing machine is fun, exciting, and rewarding.

Click here for more information on our heirloom sewing book,
Pintucks & Lace
---
Everything Reproducible For Your Classroom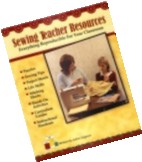 Teach sewing with tips and tricks that make passing on your love of sewing fun and easy, with puzzles to help reinforce what has been learned to handouts that make teaching sewing a breeze, and hands on activities that are lots of fun. This sewing book for teachers will also show you how to sew with the other books from Bunkhouse Sewing as a how to sew curriculum for your students. With everything reproducible, this sewing book is what all of you who want to teach others the skill of learning to sew dream of!
Click here for more information on
Sewing Teacher Resources
---
Sewing and Quilting Activity Book
A Fun-Filled Activity Book
This fun filled activity book will keep you in stitches for a while with dot to dot, coloring, mazes,
word searches, and games.
Over 90 pages of puzzles and more, including several simple sewing projects!
Students will build a love for sewing as they learn and reinforce sewing concepts through fun activities. Use this book to keep your budding seamstress inspired and challenged.
Have fun!
Click here for more information on Sewing & Quilting Activity B
ook
---
Let's Bring Glory to God with Church Banners
A Complete Course on Creating Beautiful Quilted Banners for Your Church
Creating worship banners for your church is a wonderful way to integrate your skills as a seamstress into the body of Christ. Glory to God contains 4 full size banner patterns, each featuring different techniques for you to learn, invaluable professional information on techniques, explanation, and illustrations. A wealth of design ideas, tips and tricks...and much more!
Click here for more information on
Glory to God
---
Sewing and Reaping
Your Guide to Owning Your Own Sewing Business
Sewing and Reaping is an interactive sewing book designed to guide you through the benefits and realities of owning your own sewing business. It will walk you through the steps needed to show you how to start a sewing business and enable you to become your own boss, work from home doing what you love, and create a sewing business built to last!
Click here for more information on Sewing and Reaping
---
---
Sewing Supplies You Will Need When Learning To Sew
Good work requires the right tools and the knowledge to use them. Sewing supplies can be categorized into 6 groups according to their use.
Measuring Tools: Cloth tape measures - a plastic coated tape, 60 inches long, with metal tips and numbers on both sides; Seam guage - a short (6") metal ruler, helpful in measuring hems and short lengths.
Sewing Tools: Straight pins - should be fine and sharp. Pins with ball heads are the easiest to use; Pin cushion or magnetic holder - keeps your pins together; Seam ripper - used to remove unwanted stitches; Needles - for hand sewing.
Cutting Tools: Small Scissors - handy for snipping threads, cutting corners, trimming seams; Dressmaker Shears - longer, stronger blades and used primarily for cutting fabric.
Marking Tools: Soap Slivers - for marking dark colored fabrics; Water soluble marking pen - writes in blue ink which remains until you wash it away with water; Color coded dots - purchase at office supply store. Simply stick them on to the fabric to transfer markings.
Pressing Tools: Steam iron and Ironing board - always press as you sew for success.
Instructional Materials: A good sewing book, patterns and directions - for current sewing projects.
This list encompasses the basic sewing supplies for beginners to have on hand as they explore learning to sew.
Cart

Sewing & Reaping is an interactive workbook designed to guide you through the benefits and realities of owning your own sewing business.
Customer Comments:
Sewing & Reaping is a great, super, creative book. I am applying the wealth of information it contains as I start my business on teaching kids to sew next spring. Thank you for sharing and taking the time to put this book together.
Carol
---
Youv'e given me some ideas that I hadn't thought of. Thanks so much for taking time out of your busy schedule and for your encouragement.
Mary

---
The best part of owning my own business is being at home. I can make my own hours and set my own schedule. I can work when I want and play when I want. With a lot of preparation and planning, you are sure to be a success!
Susan
---
Hi, I bought your book through a homeschool catalog and I think it is wonderful! Thank you!
Danielle
---
The best part of having a home sewing business is that I get to set my own hours and prices. Even better, I can multitask and have laundry or the dishwasher going at the same time I'm teaching a class! Do what you love and you will be excited to go to work each day.
~Sherri
---
Thanks for your help and your amazing books! You really are the only company I know of that has something like this to offer!
Bethany
---
Customer Comments:
Sewing Books & Patterns
We are still learning an having fun. Our daughter's projects are turning out so pretty. Thank you for the easy instructions and the wonderful, practical items. We had previously started another how to sew book, but my daughter wanted to know when she was going to be able to sew "real life" things instead of just the toys and dolls in the other book. :) I am definitely going to recommend your books to anyone who asks our opinion. RaShell S
---
Thank you for taking the time to create detailed patterns and instructions that allow a mother, with little sewing experience, to teach at home. Rachelle
---
Hi, I bought your book through a home school catalog and I think it is wonderful! Thank you!
Danielle
---
My name is Alia and I live in Maryland, USA. I purchased your book Stitches and Pins to use with my daughter. We began your book and I must tell you that the layout of your book is very, very nice. I love the fact that the patterns are useful . I searched the internet high and low , only to find that most of the sewing books for children were "cute" but also impractical. The fact that the very first project went to use as soon as it was finished made us very happy!!! My husband has been very encouraging because he can see results he is proud of his little girl....... I have attached pictures of our projects for you to see. They were all completed by my daughter except for the greenish book cover ( I couldn't resist). I have a basic sewing knowledge and must admit I am very impressed and excited and want to sew more myself
now !!
Thank you for making such a nice user friendly book !!
Alia
---
Thank you for your great sewing books. I love having a "plan" for teaching my daughters to sew and I imagine that I will eventually have to get the book for boys as my son wants to sew his baby brother a blanket for Christmas!
Stephenie
---
Back about 5 years ago, I ran a small Sewing camp (1 week long) for my daughter and her 5 friends. We used your book, Stitches & Pins, and the course was a tremendous success. In fact, the next summer the six girls worked on your second book, and made all of the projects at our sewing camp. I am very impressed with your teaching and the books you have produced.
Beth
---
Have used your books to teach homeschool sewing classes and everyone really loved them! I especially like that you have a book just for boys. My 14 year old son now has his own sewing machine and has many projects under this belt. Thank you, and God Bless.
Michelle
---
I am a 63 year old grandmother that use to sew for the public, owned my own retail stitching shop and I am excited what you are doing for our young people. Sewing is not a dead art YEAH!!!!!!!
---
My church is starting a home school coop with an age range of 4-15...Thanks for your help and your amazing books! You really are the only company I know of that has something like this to offer!
Blessings, Bethany