Pins & Needles - An Intermediate Sewing Book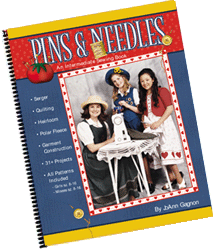 Learn how to sew clothes in our intermediate sewing book, Pins and Needles, which continues what Stitches and Pins started, delving into more difficult sewing techniques like waistbands, zippers, and
set-in sleeves. There are also sections on specialty fabrics, and you will learn the quick and beautiful seams and finishes made using the serger. The format of the book is laid out like Stitches and Pins; techniques are introduced followed by sewing projects to apply the new sewing skills
- from sewing clothes to quilting. There are over 30 sewing projects in all, something to be stitched for every season of the year! And, all the sewing patterns, Girls sizes 8 to 16 and Misses sizes 8 to 16, are included in a handy packet built into the back cover of the book!
Scroll down to view a few of the projects in this book
---
Product Selections
1
Pins & NeedlesContinue developing your daughter's sewing skills with our sewing book, Pins and Needles where previously learned techniques are developed and new techniques are introduced improving sewing skills while they learn how to sew clothes. Some of the clothes patterns included are a Polar Fleece vest with a zipper, hooded jacket, basic jumper, sundress and quilt pattern. There are 30 fun projects for any season of the year, each with the goal of learning how to sew clothes and improving sewing skills.
2
Pins & Needles 18" Doll Clothing Patterns

Have fun dressing up Dolly in outfits that coordinate with the ones you made in the

Pins and Needles

instructional. You'll find 18 in doll clothes patterns for sewing clothes like the Polar fleece vest & scarf, sundress, top and bottom sweats and a skirt plus many more. Either use left over scraps, or have fun picking out new, fun material to dress up Dolly. These patterns use velcro instead of zippers for ease in dressing that favorite doll. All patterns fit 18" dolls.




3
Pins & Needles PLUS 18" Coordinating Doll Patterns

Purchase

Pins and Needles, An Intermediate Sewing Book

, AND the

Pins and Needles 18" Doll Patterns"

and save $3.00. Delight your daughter, sew doll and girl matching outfits for her and her doll. Either use matching fabric or coordinate fabric colors making pretty combinations for any time of the year. Sure to put a smile on her face.

4
Sewing and Growing with the ScripturesEncourage your daughter to continue growing in her knowledge of God as she increases her sewing skills. For each sewing project in the Pins and Needles instructional there is a correlating lesson grounded in Biblical truths. A scripture passage and a short prayer follow the devotions to reinforce the lesson. Your daughter will be encouraged to pursue a relationship with Christ with you by her side.
5
Pins & Needles PLUS Sewing & Growing w/Scriptures

Encourage your daughter to grow in her knowledge of Christ as she increases her sewing skills. Each sewing project in

Pins & Needles

has a correlating lesson in the

Sewing & Growing with the Scriptures

devotional. A scripture passage and a short prayer follow each devotion.

6
Pins & Needles PLUS Sewing & Growing w/Scriptures Plus !8" Doll Patterns

Learn new techniques as you s

ew up matching clothes for your daughter and her 18" doll, all while growing closer to each other and Christ. Christ centered devotionals accompany the sewing projects in the Pins and Needles sewing book with a scripture passage and short prayer following each devotion to reinforce the lesson. Increase your knowledge of sewing clothes and our amazing God at the same time.

7
Extra Pattern Sheets for Pins & Needles

While each sewing book comes complete with patterns, we have made extra pattern sheets available. These extra patterns are perfect if you have children in multiple sizes, would simply rather not cut the patterns in the book, or maybe there was an 'oops' moment when you were cutting the original pattern. Whatever the reason, for your convenience, we offer this complete set of pattern sheets for the Pins and Needles book; girls and misses sizes 8 - 16.



8
Sewing and Reaping BookSewing and Reaping works through the question of how to start a sewing business, and the realities of getting it off the ground. Written in workbook format, you will have the tools to explore markets and choose a niche, build a business plan, walk through inventory, market, sell and grow your business, and much more!
9
Sewing & Quilting Activity Book

This fun filled sewing activity book will keep you in stitches for a while with dot to dot pictures, coloring, mazes and word searches. For ages 6-14. 99 full pages of puzzles, including a couple of sewing projects, math puzzles and drawing! You will build the love of sewing and learn a few skills along the way as you inspire and challenge your budding seamstress. Have fun! Do you teach more than one child? This is an excellent resource to motivate your faster students and keep their hands busy and learning doing mazes and word searches while you work with others. Sewing teaches a child so many skills! This book offers pages that reinforces creativity and color coordination; learning math and measurements; drawing; critical thinking skills; and sewing knowledge and application. All children learn in different ways...this book provides a child another way to learn sewing.
---
Learn how to sew clothes from patterns in
Pins & Needles: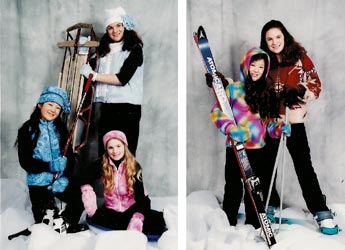 Snugly and warm describes Polar Fleece which is so popular now. It is also surprisingly easy to sew! Fleece sewing clothes patterns include a zipper front vest, and hooded jacket which has the option of stitching it as a pull-over style or with a zippered front. Wintertime accessories are not forgotten. The comfy mittens, wrap-around scarf, ear warmer, and two styles of the snow hat patterns are included in this book.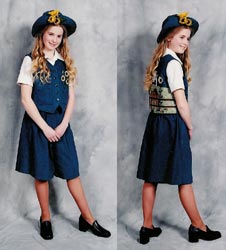 Sewing techniques taught in our front buttoned vest include applique, buttons and buttonholes, lining and pockets. You will learn to sew on a waistband and to stitch soft pleats while stitching the culottes skirt. The blouse pattern has variations for puff or roll-up sleeves, rounded or pointed collars, and buttons up the front. The floppy hat completes the outfit in a fun way. It's fun to lean how to sew clothes!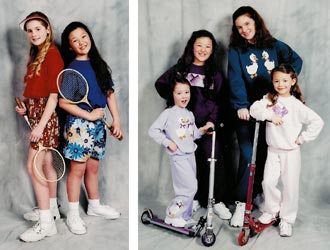 You will be introduced to new sewing techniques, like serger sewing, by making several outfits - T shirts and shorts for summertime wear, and sweat suits for cooler weather activities. A pieced heart border and the duck applique on the sweat shirts make these outfits fun to wear. Sewing clothes with the serger is quick and easy!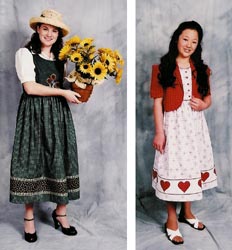 After learning to sew gathers, line a bodice, put in a zipper, and make a border on your jumper, you are ready to take these sewing skills a step farther by adding piping and turning the project into a sundress. Also included is a pattern for a shawl collar jacket. Discovering how to sew clothes and learning all the techniques is exciting and challenging!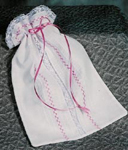 Pintucks, lace insertion, and machine embroidery are heirloom sewing skills learned when you make a fancy bag and blouse. A variety of quilting projects are included. Log Cabin and Courthouse Steps piecing, strip quilting, applique, quick bias, and quilters grid are all techniques used in making game boards, coasters, placemats, wall hangings and Christmas sewing projects. 18" doll clothes patterns matching the projects in this book are also available.
---

Check it out!

Instructional Slide shows:

| | | |
| --- | --- | --- |
| | | Sewing Tip--Sewing Machine Problems |
| | | The first thing to do if you are experiencing problems with your sewing machine is to re-thread your machine. This generally takes care of most problems. |
| | | Change your needles often...whenever you begin a new project. You may need to change three or four times before completing your quilt project. |
| | | Keep your machine clean. using a soft brush, clean the lint from the lower part of your machine after each project. Lint collects around the bobbin casing and can cause problems. |
| | | If using a twin needle for pintucks, be sure each thread goes on different sides of the tension disc when threading. |
| | | Make sure your bobbin is correctly inserted. Never change the tension on the bobbin case. |
| | | Keep your machine oiled. We suggest oiling every three months. |
Pins & Needles review by The Old Schoolhouse Store
Once upon a time, all young girls learned how to sew clothes from their mothers and grandmothers. It was a necessary skill and one that no homemaker dared be without. But sadly, this domestic art of sewing clothes has fallen largely by the wayside in today's culture. Many mothers themselves lack the know-how to teach their daughters even the most rudimentary sewing skills, and they have no idea where to start. But thanks to JoAnn Gagnon and her excellent instructional manuals, help is on the way! Ms. Gagnon has written a whole series of books on the art of sewing-for the novice all the way up to the seasoned seamstress. Her first book, Stitches and Pins, introduces beginning sewing skills and simple projects. Her Intermediate level book, Pins & Needles is an 80-page, wire-bound manual that continues where Stitches & Pins left off. It covers more challenging sewing techniques, as the learner finds out how to sew clothes, including waistbands, zippers, and set-in sleeves, while also briefly reviewing basic sewing skills as needed. The format of the book is very easy to use, and I really like the way the instruction in the various techniques is immediately followed by projects designed to incorporate, practice, and perfect the skills that have just been learned. As always, "doing" is the best way to remember! There are over 30 projects in this manual, including instruction in using a serger, quilting, heirloom sewing, polar fleece, and sewing clothes. And all patterns are in a handy pocket on the inside of the back cover. Sizes include Girls 8-16 and Misses 8-16. I especially liked the section on applique, as this is a technique that I've been interested in for quite some time. All projects are really nice and up-to-date-and there is something for every season! My 15-year-old twin daughters have been taking sewing lessons for over six years, and I asked them and their sewing instructor to take a look at the manuals. They all agreed that with a good working knowledge of basic sewing skills, almost anyone could follow the step-by-step instructions in Pins & Needles. The directions are well-written, and the methods are well-presented and easy to understand.
Cart
Sewing & Reaping is an interactive workbook designed to guide you through the benefits and realities of owning your own sewing business.
Customer Comments:
Sewing & Reaping is a great, super, creative book. I am applying the wealth of information it contains as I start my business on teaching kids to sew next spring. Thank you for sharing and taking the time to put this book together.
Carol
---
Youv'e given me some ideas that I hadn't thought of. Thanks so much for taking time out of your busy schedule and for your encouragement.
---
The best part of owning my own business is being at home. I can make my own hours and set my own schedule. I can work when I want and play when I want. With a lot of preparation and planning, you are sure to be a success!
Susan
---
Hi, I bought your book through a homeschool catalog and I think it is wonderful! Thank you!
Danielle
---
The best part of having a home sewing business is that I get to set my own hours and prices. Even better, I can multitask and have laundry or the dishwasher going at the same time I'm teaching a class! Do what you love and you will be excited to go to work each day.
~Sherri
---
Thanks for your help and your amazing books! You really are the only company I know of that has something like this to offer!
Bethany
---
Customer Comments:
Sewing Books & Patterns
We are still learning an having fun. Our daughter's projects are turning out so pretty. Thank you for the easy instructions and the wonderful, practical items. We had previously started another how to sew book, but my daughter wanted to know when she was going to be able to sew "real life" things instead of just the toys and dolls in the other book. :) I am definitely going to recommend your books to anyone who asks our opinion. RaShell S
---
Thank you for taking the time to create detailed patterns and instructions that allow a mother, with little sewing experience, to teach at home. Rachelle
---
Hi, I bought your book through a home school catalog and I think it is wonderful! Thank you!
Danielle
---
My name is Alia and I live in Maryland, USA. I purchased your book Stitches and Pins to use with my daughter. We began your book and I must tell you that the layout of your book is very, very nice. I love the fact that the patterns are useful . I searched the internet high and low , only to find that most of the sewing books for children were "cute" but also impractical. The fact that the very first project went to use as soon as it was finished made us very happy!!! My husband has been very encouraging because he can see results he is proud of his little girl....... I have attached pictures of our projects for you to see. They were all completed by my daughter except for the greenish book cover ( I couldn't resist). I have a basic sewing knowledge and must admit I am very impressed and excited and want to sew more myself
now !!
Thank you for making such a nice user friendly book !!
Alia
---
Thank you for your great sewing books. I love having a "plan" for teaching my daughters to sew and I imagine that I will eventually have to get the book for boys as my son wants to sew his baby brother a blanket for Christmas!
Stephenie
---
Back about 5 years ago, I ran a small Sewing camp (1 week long) for my daughter and her 5 friends. We used your book, Stitches & Pins, and the course was a tremendous success. In fact, the next summer the six girls worked on your second book, and made all of the projects at our sewing camp. I am very impressed with your teaching and the books you have produced.
Beth
---
Have used your books to teach homeschool sewing classes and everyone really loved them! I especially like that you have a book just for boys. My 14 year old son now has his own sewing machine and has many projects under this belt. Thank you, and God Bless.
Michelle
---
I am a 63 year old grandmother that use to sew for the public, owned my own retail stitching shop and I am excited what you are doing for our young people. Sewing is not a dead art YEAH!!!!!!!
---
My church is starting a home school coop with an age range of 4-15...Thanks for your help and your amazing books! You really are the only company I know of that has something like this to offer!
Blessings, Bethany