Sewing
Expo Show Specials

These specials will be offered at the Sewing Expo and on our website, now through March 15.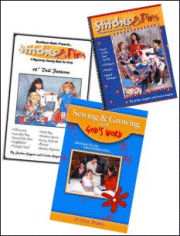 Sewing
Book Special includes:









1 - Stitches & Pins, a Beginning Sewing Book for Girls


1 - 18" Doll Clothing Pattern, Coordinating with Stitches & Pins

1 - Sewing & Growing with God's Word,
A devotional book coordinating with Stitches & Pins

Retail: $42.85


Show Special: $36.00

Church
Banner Special

includes:


1 - I Am the Light of the World


1 - I am the Bread of Life


1 - I am the Resurrection and the Life


1 - I am the True Vine


All banners are in Gridded Format


Retail: $43.80


Show Special: $36.00

---

Quick Links

Our Website
Sewing Books

Devotional Books


Sewing & Quilting Patterns


Dolls & Doll Clothing


Church Banners

Activities

eBooks & ePatterns



:: 1-800-337-8845


1-509-337-8845


Bunkhouse Books


JoAnn Gagnon


Waitsburg, Washington


_________________________

Greetings!
I am excited to introduce you to the first two of my new, "Sewing
& Growing" devotional book series. These books have been written to relate the projects and techniques in my sewing books to scripture, and for character training with our children. They are written age appropriate according to sewing skill levels. Be sure to check them out below.

This is my first year as an exhibitor at the Sewing and Stitchery Expo in Puyallup, WA. If at all possible, I would urge you to attend the Expo. It is the largest in the United States, and has lots of classes and a wealth of information for you to glean. My daughter and I started attending when she was 12, and have not missed one since. We would both go to different classes
(which are $4.00 each) and then compare notes. We came home and had lots of fun trying out new techniques on the machine as well as enjoying the books and information we would pick up at the vendor booths. Drop by and see us if you have a chance. You can find us in booth #1017.


Have a wonderful, sew fun month! ~JoAnn


Relating Scripture to the Projects and Techniques in our Sewing Books

Sewing
& Growing with Jesus
- devotions for use with "Catch the Sewing Bug". Jump start your 4 to 8 year old's character training by catching the sewing bug. Interact through projects, bible stories and memory verses, devotions and songs. Bonding together as you teach your child develops life-long memories.
The devotions in this book relate the project or technique you are working on in "Catch the Sewing Bug" to Bible stories and focus' on a specific character trait. What a fun way to prepare your little one for life! $8.95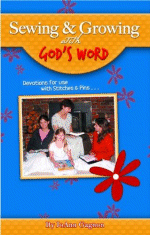 Sewing
& Growing with God's Word - devotions for use with "Stitches & Pins". Teach your daughter life lessons from the Bible as she learns sewing is fun and easy, step-by- step. Sewing becomes a tool for developing character as you work together to create projects, while reflecting on parallel concepts in God's word.

Devotionals, memorization, and life applications, created to go hand-in-hand with each "Stitches & Pins" project, will help you provide a strong foundation for your daughter's life. So jump right in as she learns to sew and grow, it is fun! $8.95

The
Little Buckaroo, Western Play Outfits

This set of patterns includes a western vest, with decorative variations, fringed
chaps, fringed skirt, purse and a wonderful stick horse in two sizes. Items are embellished with conchos and fringe, as well as western appliques. Designed to be sewn from suede or vinyl. Also included in this pattern is a girls western 3 tiered skirt, western baby bibs, and instructions on embellishing a variety of ready made clothing articles. Pattern sizes from S to XL. Sure to be a winner
with the imaginative little ones! $12.95

To encourage sewing and creativity, Bunkhouse Books is offering you, ages 8 - 16, the opportunity to participate in our "Winter Sewing Contest".
Please download the information and submission form in pdf format at our
Sewing
Contest
website page.
Website
Closeouts:
We are currently closing out our
Activity
Bags,
Sewing
Supplies
, and
Kits
for Projects
that coordinate with the projects in Stitches & Pins and Buckles & Bobbins on our website. Be sure to check out these great values !!
Specials:

We offer different monthly specials. Be sure to check in periodically and see what's on sale.

Sewing & Stitchery Exposition

Interested in attending the Sewing & Stitchery Exposition? Call 866-554-8559 for information.

Dates: February 28 - March 2

Western Washington Fairgrounds


Puyallup, WA.


Sewing fills my days, not to mention the living room, bedroom, and closets!


~author unkhown~