Pintucks & Lace - Using Heirloom Techniques on Today's Styles
Heirloom sewing is exquisite...fine fabrics and delicate types of stitches combine to create the most beautiful of pieces. The purpose of Pintucks & Lace is to teach heirloom sewing by machine, and how these lovely stitches replicate the true heirloom look. You can then use these new sewing techniques to make baby dresses, wedding gowns, special occasion outfits, and more!
Pintucks & Lace shows you how to create gorgeous heirloom look clothing and accessories that you can use and enjoy every day! Use these delicate, detailed types of stitches and sewing techniques to add a touch of femininity and beauty to your projects in a fraction of the time it took our ancestors. Bring a bit of the past into today!
Once you are familiar with sewing techniques such as puffing, turned applique, endredeaux, sharks teeth, pintucks, French seams, sewing with lace, and more, you will put your new knowledge to work creating distinctive works of art.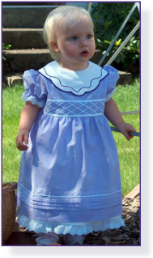 Twenty-four projects, complete with sewing patterns, include items you will be proud to wear and use yourself, give as gifts or display in your home. You will create everything from an heirloom gift bag to a tiered skirt to a tea cozy and an entire baby ensemble. Showcase your newfound skills using a variety of types of stitches with showy blocks on an heirloom quilt sure to be a treasure for generations. You'll utilize every last scrap by making bookmarks from your leftovers!

Pintucks & Lace takes a lost art that can seem intimidating and out-of-reach and brings it firmly within your grasp. You will delight in the ease with which you are able to recreate the fine skills of heirloom sewing by machine and incorporate it effectively into today's styles.
Scroll down for more project photos
Product Selections
1
Pintucks & LaceRecreate the sewing techniques of old with your sewing machine and incorporate them into today's style. Pintucks and Lace takes a lost art of heirloom sewing and shows you how to make pintucks and do the fancy types of stitches on your machine. Create a gift bag, a tiered skirt, tea cozy and an entire baby ensemble. Learn sewing with lace techniques, then show off your new skills with blocks for heirloom quilts! Have fun making these classic outfits for yourself and your daughter.
2
Pintucks & Lace 18" Doll Clothing Patterns

This beautiful dress pattern is made with heirloom types of stitches and matches the dress pattern in

Pintucks & Lace

. Other 18 in doll clothes patterns included in this pack are a headband and bow that match the dress, a doll quilt made with pintucks and insertion lace, and a pillow and pillowcase to complete the bed set. Directions for all the sewing techniques are included, along with the pattern instructions. This is an ensemble that will be cherished forever! Enjoy adding a touch of beauty and femininity to a sewing project that is certain to please any little girl.

3
Pintucks and Lace PLUS 18" Doll Pattern

Save when you purchase

both

Pintucks and Lace

AND the 18" Doll pattern! Learn a lost art using heirloom sewing techniques and patterns to make clothing for yourself or your child, then make matching girl and doll dresses for her favorite doll. All patterns, instructions and directions for techniques are included.

4
Sewing and Growing in Beauty and GraceUtilize this wonderful book of devotions in conjuction with Pintucks and Lace. For each heirloom sewing project there is a correlating devotional and lesson grounded in Biblical truths. Taught using bible analagies, a scripture passage and a short prayer follow each devotion to reinforce the lesson. You will be encouraged to pursue a relationship with Christ.
5
Pintucks & Lace Plus Sewing & Growing w/Beauty and Grace

Heirloom sewing is exquisite...and becoming a woman after God's heart is a beautiful thing as well. Do both together with this set of Pintucks and Lace and the coordinating devotional. Each project in the instructional has a matching devotional grounded in Biblical truth. Learn this lost art of sewing and encourage yourself as well as your daughter to pursue a relationship with Christ. Patterns include an heirloom gift bag, baby ensemble, and a tiered skirt as several more.

6
Pintucks & Lace, Sewing & Growing w/Beauty & Grace, w/ 18" Doll Clothing Patterns

Purchase

Pintucks and Lace with the Pintucks and Lace 18" Doll Pattern plus Sewing and Growing in Beauty & Grace.

Create exquisite outfits for yourself, matching girl and doll patterns, all the while learning to be and teaching your child to be a woman of beauty and grace.

7
Sewing and Reaping BookSewing and Reaping works through the question of how to start a sewing business, and the realities of getting it off the ground. Written in workbook format, you will have the tools to explore markets and choose a niche, build a business plan, walk through inventory, market, sell and grow your business, and much more!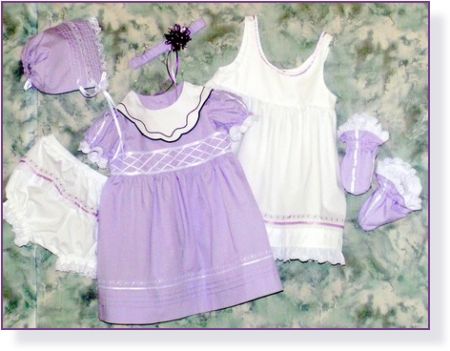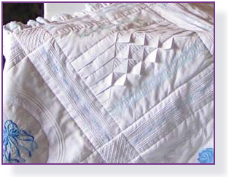 A few of our projects: Dress baby from head to toe - literally! Use a variety of types of stitches to sew up an adorable baby ensemble including everything from headband to booties. This set will be a true treasure for any new Mom. Includes patterns for infants size 0 to 9 mos. You will sew a bonnet, headband, dainty slip, pinafore, fancy panties, booties, a sweet dress and even frilly socks! Sewing techniques include sewing with lace, French seams, embroidery stitches, ribbons & more. Pillows and quilts adorned with fine heirloom detailing allow you to showcase your newly learned skills and adorn your home in beauty.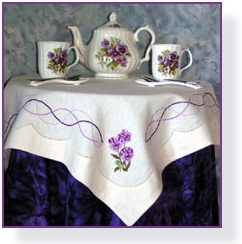 In sewing heirloom you will be making the fabric using the heirloom sewing techniques first, and then cutting out your pattern.
You will be using lighter weight fabrics, special sewing machine feet, starch, stabilizers, and completing a lot of precision details. Heirloom sewing is not difficult once you know the types of stitches and procedures, but takes time, patience and skill at the machine. The end result is well worth the time and effort to learn the unique sewing techniques!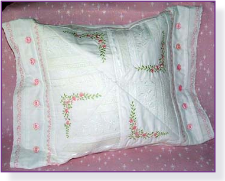 Sewing Machine Feet

Although most all heirloom sewing techniques can be completed with a regular zig-zag sewing machine foot, there are a few specialty feet that make the job easier and give a more professional look to the finished project.




Pintuck Foot—This foot comes in several widths with either 3, 5, or 7 grooves under the bottom of the foot. The groove directly under the needle position allows room for the fabric to be taken up into a pintuck. The other grooves ensure even spacing between pintucks when a previously stitched pintuck is put under another groove. This foot also works well with tiny piping. If you can purchase only one new sewing machine foot, this would be the one. Pintucks are one of the many types of stitches used a lot in heirloom sewing.




Edge Joining Foot—This foot, which has a blade in the middle, butts and stitches two finished edges together precisely and evenly without extra overlapping. When sewing with lace, you will use this foot to join together laces as well as laces to fabric.




Open Toe Foot—This foot allows you to see what you are stitching! It is used mainly for appliqué and fancy machine stitches.




Gathering Foot—This foot has a small hole in the middle and will automatically gather your fabric for you. Works great for making puffing, one of my favorite heirloom sewing techniques.




Walking Foot

—This is a special machine presser foot

that feeds the fabric through from the top, allowing the top and bottom to feed through evenly. It works great for thick fabrics, quilting, slick fabrics...anywhere there might be slippage, or fabric creeping during the stitching process. This foot is great for sewing all types of stitches, all kinds of fabrics, and when sewing with lace.



Cart
Sewing & Reaping is an interactive workbook designed to guide you through the benefits and realities of owning your own sewing business.
Customer Comments:
Sewing & Reaping is a great, super, creative book. I am applying the wealth of information it contains as I start my business on teaching kids to sew next spring. Thank you for sharing and taking the time to put this book together.
Carol
---
Youv'e given me some ideas that I hadn't thought of. Thanks so much for taking time out of your busy schedule and for your encouragement.
---
The best part of owning my own business is being at home. I can make my own hours and set my own schedule. I can work when I want and play when I want. With a lot of preparation and planning, you are sure to be a success!
Susan
---
Hi, I bought your book through a homeschool catalog and I think it is wonderful! Thank you!
Danielle
---
The best part of having a home sewing business is that I get to set my own hours and prices. Even better, I can multitask and have laundry or the dishwasher going at the same time I'm teaching a class! Do what you love and you will be excited to go to work each day.
~Sherri
---
Thanks for your help and your amazing books! You really are the only company I know of that has something like this to offer!
Bethany
---
Customer Comments:
Sewing Books & Patterns
We are still learning an having fun. Our daughter's projects are turning out so pretty. Thank you for the easy instructions and the wonderful, practical items. We had previously started another how to sew book, but my daughter wanted to know when she was going to be able to sew "real life" things instead of just the toys and dolls in the other book. :) I am definitely going to recommend your books to anyone who asks our opinion. RaShell S
---
Thank you for taking the time to create detailed patterns and instructions that allow a mother, with little sewing experience, to teach at home. Rachelle
---
Hi, I bought your book through a home school catalog and I think it is wonderful! Thank you!
Danielle
---
My name is Alia and I live in Maryland, USA. I purchased your book Stitches and Pins to use with my daughter. We began your book and I must tell you that the layout of your book is very, very nice. I love the fact that the patterns are useful . I searched the internet high and low , only to find that most of the sewing books for children were "cute" but also impractical. The fact that the very first project went to use as soon as it was finished made us very happy!!! My husband has been very encouraging because he can see results he is proud of his little girl....... I have attached pictures of our projects for you to see. They were all completed by my daughter except for the greenish book cover ( I couldn't resist). I have a basic sewing knowledge and must admit I am very impressed and excited and want to sew more myself
now !!
Thank you for making such a nice user friendly book !!
Alia
---
Thank you for your great sewing books. I love having a "plan" for teaching my daughters to sew and I imagine that I will eventually have to get the book for boys as my son wants to sew his baby brother a blanket for Christmas!
Stephenie
---
Back about 5 years ago, I ran a small Sewing camp (1 week long) for my daughter and her 5 friends. We used your book, Stitches & Pins, and the course was a tremendous success. In fact, the next summer the six girls worked on your second book, and made all of the projects at our sewing camp. I am very impressed with your teaching and the books you have produced.
Beth
---
Have used your books to teach homeschool sewing classes and everyone really loved them! I especially like that you have a book just for boys. My 14 year old son now has his own sewing machine and has many projects under this belt. Thank you, and God Bless.
Michelle
---
I am a 63 year old grandmother that use to sew for the public, owned my own retail stitching shop and I am excited what you are doing for our young people. Sewing is not a dead art YEAH!!!!!!!
---
My church is starting a home school coop with an age range of 4-15...Thanks for your help and your amazing books! You really are the only company I know of that has something like this to offer!
Blessings, Bethany